Surface Medical Inc.

Sustainability

Sustainability
What is

Green

Green

Healthcare?

Healthcare?
Green healthcare is the commitment of reducing waste and carbon emissions in the healthcare sector. This can be achieved by champions at all organizational levels through the incorporation of environmentally friendly practices into the clinical setting.
of national carbon emissions are attributable to the healthcare sector alone.
Source: Eckelman M et al. Health Affairs 2020
Why is it

Important?

Important?
The healthcare sector is a major contributor to the climate crisis, the greatest health threat of the 21st century. The climate crisis has both direct and indirect consequences on human and planetary health and it is therefore important to turn to sustainable practices.
The World Health Organization estimates that the direct damage to health by climate change will cost up to $4 billion per year by 2030*. This number excludes indirect costs associated with the effects on agriculture, water, and sanitation.
of carbon emissions in the healthcare sector are attributable to the supply chain.
Source: Zhao Q, Guo Y, Ye T, et al. Lancet Planet Health 2021
How Surface Medical is

Supporting

Supporting

Green

Green

Healthcare:

Healthcare:
When a patient surface is compromised by a tear or puncture, the standard protocol is to completely replace the equipment because the damaged surface poses a risk of healthcare associated infections to patients and hospital employees. This means medical equipment such as mattresses from hospital beds, exam tables, and stretchers are sent to the landfill even though their service life could be extended by repairing the surface with CleanPatch. As a result, CleanPatch reduces landfill waste and carbon emissions associated with the supply chain, and it provides a unique opportunity for healthcare organizations to implement sustainable practices.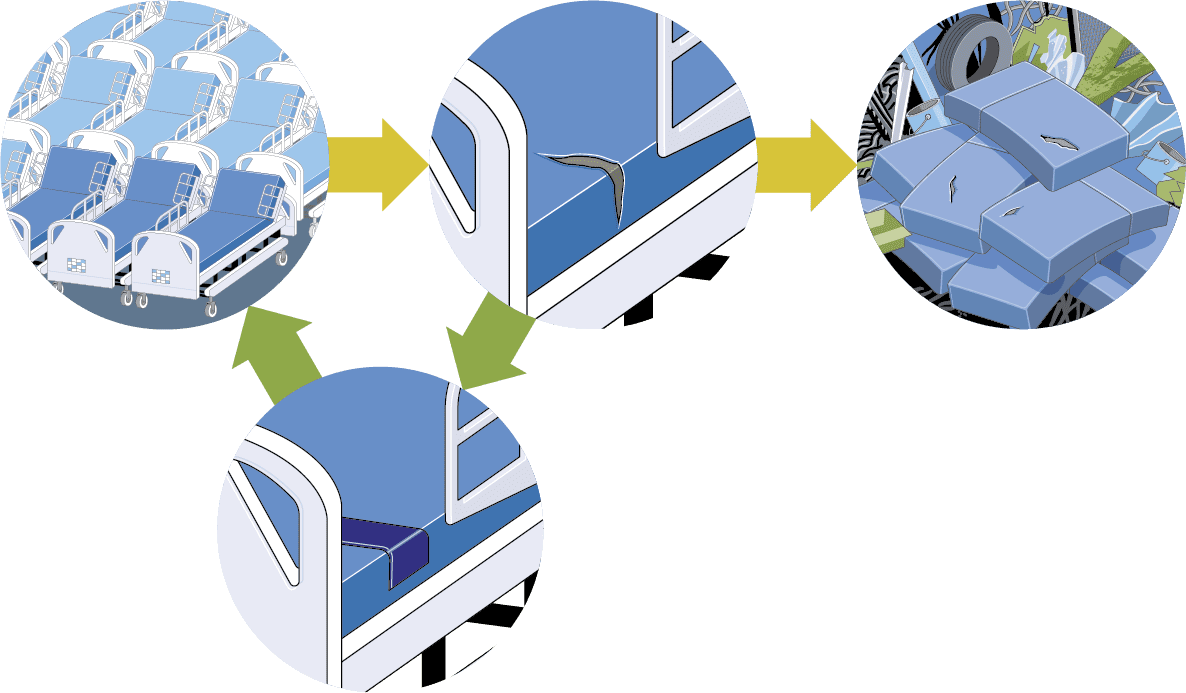 Reduce With

Clean

Clean

Patch
Reduce

waste

waste

sent to landfill
Reduce the

risk

risk

of

of

infection

infection
Reduce

carbon

carbon

emissions

emissions

from the supply chain
Reduce

costs

costs

of equipment replacement